Kingdom Hearts II (2006)


RPG
In Collection
#47

My Rating: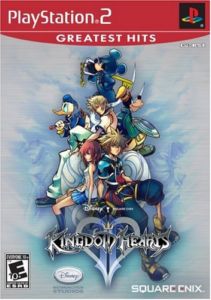 | | |
| --- | --- |
| Publisher | Square Enix |
| Developer | Square Enix |
| Series | Kingdom Hearts |
KINGDOM HEARTS II follows Sora, Donald, and Goofy on their continuing quest. Sora is looking for his lost friend Riku, while Donald and Goofy are searching for their missing king. The story begins in Twilight Town, a quiet burg nestled between night and day. Sora and friends are joined by a vibrant new cast of characters, including the king himself! Together, they will encounter countless dangers in worlds both familiar and brand-new.
Features many of the worlds from the original KINGDOM HEARTS, plus new DISNEY worlds such as Port Royal (Pirates of the Caribbean), Beast's Castle (Beauty and the Beast), The Land of Dragons (Mulan), Timeless River (Steamboat Willie), Pride Land (Lion King) as well as new original worlds
Celebrity voice talent lending their voices including Haley Joel Osment, David Gallagher, Hayden Panettiere, Jesse McCartney, Brittany Snow, James Woods, Ming-Na and Zach Braff
New and improved battle system allows an increased selection of commands, such as performing special attacks and cooperative attacks with members of your party, adding strategy to the gameplay
The "Drive" where players can transform main character Sora and change into his various forms, altering his skills and abilities
Revamped camera angles places you in the center of the action
Completely new transportation system connecting the worlds in an attraction ride-like style
Cameo appearances by popular FINAL FANTASY characters
A large ensemble cast of DISNEY characters and a new cast of original characters designed by renowned artist Tetsuya Nomura
UPC
662248904115
Format
DVD
No. of Disks
1
Region
USA
Language
English
Audience Rating
Everyone 10+