Darkstalkers Chronicle: The Chaos Tower (2005)


Fighting
In Collection
#41

My Rating: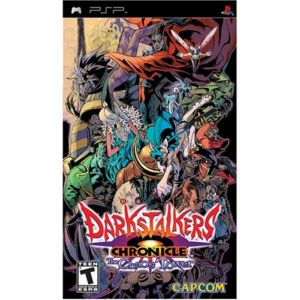 | | |
| --- | --- |
| Publisher | Capcom |
| Developer | Capcom |
Darkstalkers Chronicle: The Chaos Tower features five different modes of play. Arcade Mode is a seamless conversion where players must defeat numerous CPU-controlled characters. Training Mode gives gamers the option to choose their favourite character and hone their skills. Network Mode allows friends to engage in three different wireless head-to-head networked battles: versus, limit battle and league.
Versus offers true two-player competitive matches. Limit Battle randomly assigns a handicap to both challengers, forcing them to strategize their moves in order to claim victory. League allows four players to battle in round-robin mini tournaments where the order of turn is determined by the number of wins and loses. In the new Tower Mode, select three characters from the extensive roster and ascend to the pinnacle of a mysterious tower where many opponents await players. The course taken and fighting conditions will change dynamically based on performance during the multitude of one-on-one battles. Pitting the right competitor against an opponent will be the key to success. Progression through Tower and Arcade Mode directly affects the new Chronicle Mode which is a gallery that houses a collection of unlockable bonus materials that including original artwork and movies.
Full roster of Darkstalkers characters ... Reunite with all 18 infamous night warriors including: Demitri Maximoff the Vampire whose sharp skills include the dreaded Chaos Flare; Bishamon, the Samurai ghost warrior from Japan who possesses a cursed suit of armor and uses Storm Wind and other powerful moves to beat his enemies and the Succubus Morrigan Aenslaed, a Scottish renegade who's known to have an array of magical powers, including the Shadow Blade
Two selectable screen settings - Change the size ratio of the screen at anytime by choosing either normal or wide resolutions.
Five modes of gameplay:
Arcade - Defeat numerous CPU-controlled characters to reach the final boss
Training ... Practice various moves and combos to perfect fighting skills
Network ... Engage in network battle using a wireless LAN and select between three different types of modes
Versus - Two-player competitive matches where players can adjust the handicap and select different stages
Limit Battle ... Both fighters will be randomly assigned a handicap, forcing them to strategize their moves in order to claim victory
League ... Up to four players can battle in round-robin mini tournaments
Tower ... A survival-style mode that lets gamers pick a team of three who will journey to the top of a mysterious tower and defeat the enemies they encounter through a multi-path tournament. Advancement and winning conditions will change depending on performance during each clash which in turn affects Chronicle mode
Chronicle ... Progressing through Tower and Arcade Mode will reveal a cache of items in Chronicle Mode which house a collection of unlockable bonus features including original artwork and movie galleries
UPC
013388270019
Format
UMD
No. of Disks
1
Multiplayer Support
Wi-Fi
Region
USA
Language
English
Audience Rating
Teen