Soul Calibur IV (2008)


Fighting
In Collection
#5

My Rating: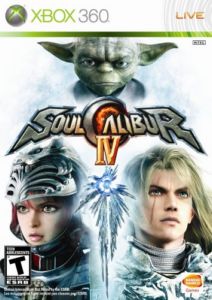 | | |
| --- | --- |
| Publisher | Namco Bandai |
| Developer | Namco Bandai |
| Series | Soul Blade/Edge/Calibur |
Two swords at its ultimate form of evolution… During the reincarnation of the Soulcalibur and Soul Edge, something else has awakened… The battle between the two swords comes to the final phase, with the resurrection of whom created those swords. Nightmare, in its ultimate form awaits at for Siegfried for the final battle.
What lies ahead of the characters twisted by its destiny? Moreover, Sith Lord Darth Vader and Jedi master Yoda appear respectively on the PlayStation 3 and Xbox 360 to engage the fight for the Soul Swords.
Online VS – for the first time in Soulcalibur franchise
Critical Strike for each characters
New game system: AMB (Active Matching Battle)
Many new interactive stages including refined familiar stages
Enhanced Character Creation mode
Numerous DLC
Special guests: Yoda on Xbox360 and Darth Vader on PS3
UPC
722674210058
Format
DVD
No. of Disks
1
Multiplayer Support
Internet, Same Screen
Region
USA
Language
English
Audience Rating
Teen